Absolute Bus Sales Customer Testimonials


Special Thanks
At the end of the day, the week, the month, or the year , the real feeling of value comes from those who appreciate our hard work. We here at Absolute Bus would like to thank all of our customers, and especially the ones who took the time to give us that special thanks through a written testimonial.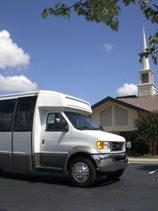 Absolute Bus Sales
Absolute bus has been instrumental in helping Kerr-Vance Academy meet an increasing need for quality transportation. We have purchased several buses over the past four years. We cannot say enough about the quality of the buses. From start to finish, Absolute Bus is a high caliber company. When we are in the market for additional buses, there will only be one phone call. That phone call will be to Absolute bus.
Paul V. Villatico
Headmaster Kerr-Vance Academy
Nearly one year ago the Shekinah Glory Seventh-day Adventist Church in Florence, South Carolina purchased a twenty four seat bus from Absolute Bus Company. As the pastor of this congregation I can honestly say things are going great with our Church Bus. The Bus is used quite often to accommodate the ministries of our Church. We haven't had any problems. When the time comes for us to make our next purchase Absolute Bus is where we'll be shopping. Thanks Paul for your professional courtesy while making our search for a dependable vehicle easy.
God's Speed,
Pastor Daryl S. Anderson Sr.
We were looking for a newer bus to replace our old one and we found out about Absolute Bus. We made the call to Paul Hartman and he helped us find the bus to fit our needs. Absolute Bus and Paul were very helpful in assisting us in finding and purchasing the bus we now have. Thank you Paul and Absolute Bus for helping our church start our bus ministry. We hope to get a bigger bus in the future from you guys!!!
Link Hewitt
Bethany Baptist Church
When we began to shop around for a shuttle bus, I checked several different resources and came across Absolute Bus sales. Their website was simple and informative with all of the information I needed about the buses they had in stock, their specifications, and the asking price. When I called them, they were very helpful in answering my questions and helping our church make a wise purchase. We ended up test driving the bus and later bought it. We have enjoyed the bus, and it has proven to be exactly what we needed. The owner of the company has even followed up with me to ensure that the buses were running fine, and when we did have a problem, he offered his services to resolve the problem. If you are shopping around for a shuttle bus, I strongly recommend Absolute Bus sales. They provide you with an excellent bus at a great, affordable price. Absolute Bus sales will give you "the best bang for the buck."
Tim Rabon, Jr.
Beacon Baptist Church
I must say that Paul and his brother treated our group with the utmost in courtesy and professionalism. They stood behind their product and went much farther in getting the vehicle to the shop than originally committed. They did everything they had promised to and more. I would not hesitate to contact them for other vehicles when needed and would recommend them without hesitation. They offered a quality product at a reasonable price.
David Mills,
Church Bus Committee
We purchased a used 2002 Krystal Koach from Absolute Bus last year and can say that they were a great company to work with. I looked all over the country and found that Absolute Bus had some of the best inventory and price. Our vehicle has been a great addition to our church fleet and we look to make another purchase in the coming year. We will certainly look at Absolute bus for our vehicle needs.
God Bless
Pastor David,
Edmonds, Washington State
I am a member of Ebenezer Church and responsible for the upkeep of the bus that we bought from Absolute Bus in August of 2007. Recently I received a recall notice from Ford and took the bus to the local Ford dealer. The Ford dealer made a list of items that needed attention. I was surprised by the high cost of the repairs. I called Paul at Absolute Bus and he said to bring the bus back to Absolute Bus and that they would check it out. Absolute Bus checked our bus and found that less work needed to be done and they were able to repair what was needed for considerably less than the Ford dealer was asking. I was pleased with the work that hey did for us. I will recommend Absolute bus to anyone who is looking for a bus. They go above and beyond the call to make sure that you are satisfied with your bus, so if you need a bus call Paul. He and his team will look after you and make sure you are happy.
Bryan Stephenson
Ebenezer Presbyterian Church
We have absolutely been satisfied with our bus that we purchased from Absolute Bus. It has proven to be exactly what Paul had told us. Our entire church family has used the bus many times and has been one of the best things we have purchased. Our youth were on the way to camp and had some problem operating the air conditioning. I called Paul and he returned the call to one of the men accompanying our youth and was able to resolve the issue over the phone. Paul was most courteous and willing to do whatever to get it resolved. We have enjoyed our bus very much and will certainly return to Absolute Bus when it is time to upgrade. I would recommend Absolute Bus to anyone needing a bus with great service after the sale.
Ronnie Byrd, Pastor
South Erwin Baptist Church
I need to let you know how I appreciate your handling our Bus. It is here and in service and bringing glory to God! Thanks for your integrity! We are happy.
And, we will be back soon to get another one!!! God bless!
-----
Senior Pastor
Hope Cathedral
I just want to say thanks to the folks at Absolute Bus. You helped us get a bus that was within our price range, and one that we are very proud of. When we started looking for a bus I never dreamed we would be able to find one so nice and that looked so good. The fact that you refurbish your buses is what drew us to you. Buying from Absolute Bus was a good choice and again I say Thanks!!
Church Bus Committee Member
Jim Smith
I would just like to say thank you to Craig and the people at Absolute Bus for meeting corps needs when it came to buying a bus . Absolute added a bath room on the bus, and in the very back we had enough room to put our drums in. The D & B members are very satisfied with the handling and all the work Absolute did in making the changes for the for Sudan Shriners Drum & Bugle Corps.
Mike Farrow
Captain Sudan Shrines Drum & Bugle Corps.
We used the bus this past Sunday on its maiden voyage to a Redskins football game. The bus was full with family and everyone loved it. We enjoyed playing movies on the TV and appreciate Craig's hard work on getting the bus the way we wanted it for our use. Very happy with the purchase and the experience with Absolute Bus.
Laura & Jennette
Dedicated Washington Redskins Fans
We are an assisted living facility with very special transportation needs. We needed a bus that was capable of handling 4 wheelchairs and 5 passengers at the same time. It also had to fit into our tight budget. We searched the entire country and finally found Absolute Bus! They refurbished a bus for us and reconfigured the floor plan to meet our needs. Not only that, but they did it while staying within our budget. When the bus arrived in Wisconsin we were more than pleased with everything. This bus looks and runs so good that it's hard to believe its 6 years old!! We will absolutely be working with Absolute Bus in the future.
Luxemburg, Wisconsin
To whom it may concern, Shannon assembly of God Church, as a whole we are really enjoying our bus. Especially our Senior Citizens, it's so much easier for them getting in and out. As for your service we have been very satisfied with your work. We appreciate you working with us on getting everything worked out. Thank you again.
Pastor Martin L. Jacobs
You believe in good customer service and I believe that purchasing this bus from you (Absolute Bus) was the best thing I could ever have done. You have backed up your strong customer service beliefs and you have referred me to other people who share our similar customer service and satisfaction principles. Doug
I am a member of Memorial Baptist Church in Virginia. Our church has voted to purchase an activity bus. As chairman of the bus committee, I have researched the available dealerships within six hours of our location and have concluded that Absolute Bus Sales would serve the needs of Memorial best. We plan to visit you on Monday August 10 during the early afternoon. One of my members insists upon Carolina BBQ before the visit, hence the reason for early afternoon. One of my committee members visited your dealership a couple of months ago while traveling back from Georgia. He spoke with Paul Hartman and advised me that the dealership was first class and Mr. Hartman very helpful. Sincerely, Thank you.
Chairman
Memorial Baptist Church
Bus Committee
We are so proud of our new bus!! Our members continue to give praise and thanks that the church has reached another milestone. This long overdue letter is to thank you for all you did to assist us in accomplishing one of our long term goals. As our membership continues to grow and our members reduce their amount of driving to off site programs, our bus has become more effective and efficient method of transportation, especially for our senior members. Our bus really exceeded the expectations of our membership. Again thanks for all that you did. May God continue to bless you and Absolute Bus Sales.
New Mt. Zion Baptist Church
We bought a bus from you a couple of weeks ago. I was there for the first meeting and asked for the reclining seats.
I just want to say thank you. Thank you for making the purchase experience very easy. For buying and selling a great product- something we can have confidence in. Thanks for putting in the new seats at no additional charge. It is pleasure to do business with you and your staff - the lady who did all the paperwork so cheerfully. I feel sure we will see you again.
Midland Valley Community Church