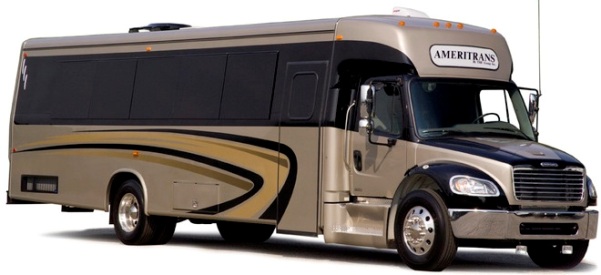 Ameritrans Buses for Sale
by Absolute Bus Sales
We are the leading Ameritrans Bus dealer, so if you are in need of a well built reliable shuttle bus or midsize coaches, you need to talk with us for Ameritrans Buses for Sale.
Shuttle Buses, Mid Size Buses and Handicap/Para Transit Buses built by Ameritrans are designed with generous leg and headroom and large touring windows. Every bus manufactured with quality fabrics and components to meet our customer's specific business or personal requirements and tastes.
Built by skilled artisan who takes pride in building an attractive and low maintenance product, close attention is given to every detail of the Ameritrans Bus. Constructed for safety and longevity, Ameritrans Shuttle Buses, Mid-Size Buses, Para Transit Buses, Limo Buses and Specialty Vehicles are built with an all steel wall, ceiling and floor frame. The body sports a fiberglass front and rear cap, full one piece fiberglass roof, and full body paint.
Ameritrans Bus is one of the few bus manufacturers that only builds on a full cab, providing more strength and durability to the overall bus structure as well as a seat area for a co-pilot. Buses with a cut-cab and passenger door installed in cab have a weakened structure and normally develop broken frames around this area within a few years.
When an interior AC evaporator is used for the passengers it is mounted in the most efficient location, over the cab, which provides:
75% less refrigerant hose run distance from AC compressor & condensor
Warm to cold air exchange is done where needed the most., near the 3 largest heat producers: engine, windshield and passenger door
The cold air blows toward the back with the natural flow of air, not against it.
Some states have already passed laws against rear AC units due to low clearance.
For the larger models we recommend an all inclusive roof AC system with ducting for maximum performance.
2013 Ameritrans Bus Models

Listed below are the new Ameritrans Bus 2013 model links. Follow the links to find information on individual new bus models offered by Ameritrans with description, option lists.

Click on the pictures below for more information
Ameritrans 200
Ameritrans 220
Ameritrans 265 Shuttle Bus


Ameritrans M2 Freightliner 355
Ameritrans M2 Freightliner 375
If you have any questions about our Ameritrans Buses for Sale call us at 910-272-0177
or click contact Bus Sales Department to write.