New and Used Church Buses for Sale
by Absolute Bus Sales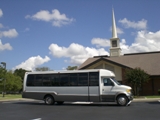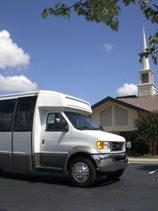 So you are looking at New and Used Church Shuttle Buses for Sale for your church? 90% of our bus sales at Absolute Bus are for church buses, so we are most familiar with what the needs of churches are when it comes to purchasing a church bus. (Be sure to read our Bus Sales Guide page also).
When looking for church buses for sale, it is important to consider many things, including finding a church bus dealer that will help find the right bus for your church's requirements. Look for church buses for sale online, as well as locally. When doing so, you will be able to make a well informed decision by comparing the many church bus sales companies that advertise there and will sell and deliver to your area.
Sales for mini to midsize church buses have grown steadily over the past few years. The determination by the National Transportation Safety Board that the 15 passenger van due to it's tendency to roll over during reflex traffic maneuvers or tire blow outs was part of the reason for the increase in church bus sales. After the 15 passenger van was declared dangerous, the insurance industry stepped in and either canceled or raised their rates on van policies. Thus, the mini to midsize church bus became very popular among churches looking for church buses for sale. Because of the lower center of gravity there is less likelihood of a rollover, making it the safer vehicle.
When looking for a safe church bus for sale, there are many important issues to consider. To begin, find a church bus dealer that has reputation and experience for working with a multitude of churches, has favorable references and has knowledge of the special needs of church bus transportation. There are many church bus dealers offering church buses for sale, but it's important to find the one that will understand your church bus requirements.
One of the most important questions the church should consider is how to spend its member's money in a highly efficient way. Should you buy a new church bus or a used church bus? Most churches put less than 5,000 miles on a bus per year. The expected life of a late model (1998 up) bus engine is up to 500,000 miles. Why spend $50-100,000. or more on a new church bus when it loses 1/3rd of its value in the first year, regardless of the mileage? You can purchase a pre owned refurbished used church bus for half the cost of a new church bus, and it normally will last the church a lifetime. The majority of people that see our used church buses for sale ask where the used church buses are, mistaking them for new church buses! There is no need to worry about unexpected repairs when you purchase refurbished used church buses from Absolute Bus Sales, with our over 250 items that we check and repair or replace as needed, you can buy with confidence.
On the other hand, if your church will be driving the bus over 20,000 miles per year, maybe a new church bus is the best answer for you. Absolute Bus is the North Carolina NC and South Carolina SC area authorized Krystal Koach Bus Dealership. Just click the Krystal Bus Sales link and review the different church bus models available. Pricing sheet links are located on each different model page for your convenience. Just remember that the prices listed are the "manufacturers suggested retail price" and that we can give you a better price.
The maintenance that a church bus for sale will need is critical. Most used church bus dealers offer no warranty, find a dealer that offers warranties on their used church buses. Also, inquire if the church bus dealer will service the church bus after the sale. If the dealer has no service center how could he have knowledge of your bus? Of course, you will feel more confident if your used church bus for sale was a refurbished bus.
Availability of church buses for sale should be considered locally as well as online. Many dealers advertise church bus sales online, showing pictures of their new and used church buses. Try to use websites that include inventory with pictures, pricing and descriptions. This can help you to decide with a more diversified and detailed selection for your church bus sales search. Remember to always consider the refurbishment of the used church bus for sale when comparing prices. A refurbished church bus may be a little more expensive, but in the long run, the wiser choice. With refurbished church bus sales there are fewer worries of unexpected repairs. Confidence and reliability will be a key factor with your congregation
Some decisions to make when starting your Church Bus Sales search.
* Will your driver have a Commercial Drivers License?
* How many seats?
* Will you need storage for luggage?
* Will you need a handicap bus?
* Will you need seatbelts?
* What is your budget?
Also you may be interested in some testimonials from our customers. Our Bus Sales verses Passenger Vans and
Bus Sales FAQ's page will also be valuable information for deciding on church buses for sale.
If you have any specific questions about our New and Used Church Shuttle Buses for Sale
Please call us at 910-272-0177 or click Church Bus Sales department to write.