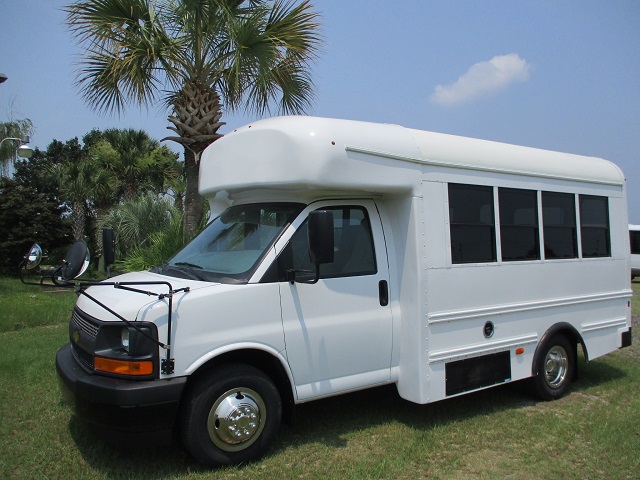 Day Care Buses for Sale
Thomas Built constantly thinks of its customers, drivers and riders while building day care buses for sale that are driver and maintenance-friendly, safety and comfort into every bus. Continuous improvement and dedication to building the most reliable and safest school buses are part of their culture. It's what has made Thomas Built one of North America's leading school bus manufacturers. And it's why one in three school buses on the road today is a Thomas Built bus.
Notice that the majority of our used bus inventory are refurbished used buses for sale.
Please read our refurbished Used Bus Sales cost page to fully understand what is involved with our bus refurbishment.
$24,995 with Warranty! stock # 77594
2006 Thomas, Ford E450
15 passenger, 14 rear+driver
117,000 miles ( very Low for a powerstroke)
Dual compressor Front and rear Air Conditioning and Heat
6.0 powerstroke diesel, 5 speed automatic transmission
New Exterior Paint
Rear door
Bench style vinyl seats with seat belts
Bifold Doors
Gross weight 14,500
Hydraulic Brakes four wheel ABS disc
Stainless steel wheel covers
MFSAB: multi function school activity bus
Refurbished with Warranty


return to Day Care Buses for Sale inventory
(previous page)







return to Day Care Buses for Sale inventory
(previous page)




If you have any questions about our Day Care Buses for Sale please call 910-272-0177
or contact our Bus Sales department to write.