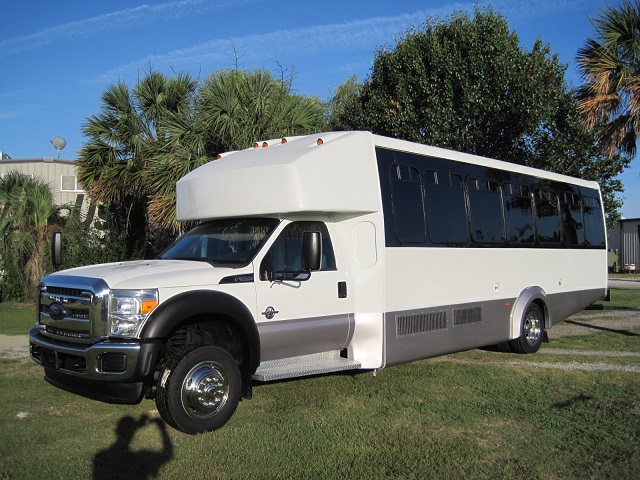 2 Wheelchair Handicap Buses for Sale
The following is one of our current Inventory of 2 Wheelchair Handicap Buses for Sale.
Notice that the majority of our used bus inventory are refurbished used buses for sale.
Please read our refurbished Used Bus Sales cost page to fully understand what is involved with our bus refurbishment.
Goshen Coach is the industry leader for providing safe, reliable products to demanding fleet customers. Our attention to detail, award winning quality, and expertly engineered design ensures each of it's Handicap Buses for Sale is built for the road ahead. There 2 Wheelchair Handicap Buses for Sale are designed using the latest three-dimensional design software to ensure that quality and comfort are integral to the development and manufacturing process. Goshen Coach is unique in the industry for requiring each vehicle to pass a complete road test, environmental rain booth test, and receive the 'white glove' nineteen-page inspection. With more than 26,000 vehicles on the road in 24/7 operations, you will be confident that your Goshen Coach vehicle was built for dependability.
$49,830
with warranty!

Stock # 61949

2012 Gosen, Ford F550
30 passenger 24 rear stationary+4 foldaway +tie down+driver
107,000 miles (very low for a powerstroke)
6.7 powerstroke diesel, 6 speed overdrive automatic transmission
Cruise control, Electric mirrors, windows & locks
Front and rear dual compressor Air Conditioning and Heat
Wheelchair lift with 2 tie down spots
Rear Door
New exterior paint
Hi-back reclining Vinyl seats
Seatbelts
AM, FM radio 4 speakers
Bifold doors
Gross weight 19,500#  with Mor-Ryde suspension
Hydraulic Brakes 4 wheel ABS disc
Stainless steel wheel covers
Running board with mud flaps
One set of restraints
Refurbished with Warranty

return to Handicap Buses for Sale inventory
(previous page)



return to Handicap Buses for Sale inventory
(previous page)



If you have any questions about our 2 Wheelchair Handicap Buses for Sale, please call 910-272-0177
or contact our Bus Sales department to write.