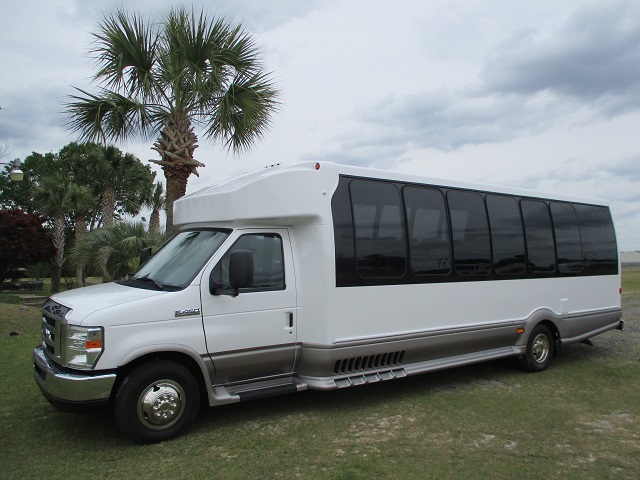 Turtle Top Buses for Sale
The following is one of our current Inventory: Turtle Top Buses for Sale
Notice that the majority of our used bus inventory are refurbished used buses for sale.
Please read our refurbished Used Bus Sales cost page to fully understand what is involved with our bus refurbishment.
Turtle Top Buses for Sale built on the Ford E450 cutaway chassis, Turtle Top's shuttle buses feature classic engineering and exterior design. The exterior design of their buses has the unmistakable Turtle Top style, while the interior is put together with the passenger in mind. Turtle Top's long history has been associated with quality relating to safety, construction, styling, and ease of operation.
$63,847.
Refurbished with warranty!

stock # 35983

2014

Executive style

Turtle Top, Odyssey , Ford E450
25 passenger, 23 rear passenger + driver and copilot
Rear Luggage
124,000 miles( Very Low for Triton V10/400k life average)
6.8 Triton V10 gas w/6 speed auto Transmission
Electric windows and Cruise control
Electric rear door lock
Front and rear dual compressor Air Conditioning and Heat
New exterior paint
Hi-back recliner Leatherette seats, Arm rests
Limo style ceiling lighting with wood trim
Wood trim dash and arm rests in cab
Wood look flooring
Electric mirrors with heat
AM, FM, CD, PA, DVD with 2-15.5" monitors 10 speakers
Bifold door
Gross weight 14,500#
Hydraulic Brakes 4 wheel ABS disc
New Stainless steel wheel covers
Running boards with flared fenders
Refurbished with Warranty

return to Buses for Sale inventory
(previous page)


return to Buses for Sale inventory
(previous page)



If you have any questions about our Turtle Top Buses for Sale please call 910-272-0177
or contact our Bus Sales department to write.