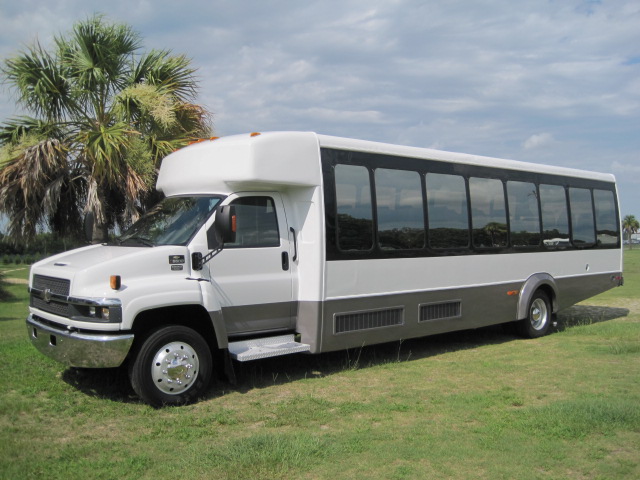 Chevrolet C5500 Duramax Bus Sales
The following is one of our current Inventory of Chevrolet C5500 Duramax Bus Sales
Notice that the majority of our used bus inventory are refurbished used buses for sale.
Please read our refurbished Used Bus Sales cost page to fully understand what is involved with our bus refurbishment.
Goshen Coach products are rigorously tested to meet or exceed Federal Motor Vehicle Standards including complete road and independent crash test, environmental rain booth test, are certified to exceed federal vehicle roll over standards, brake tests, floor strength, seat belt and window pull testing. Goshen Coach ensures all buses exceed federal safety regulations.
$65,321.
with warranty!

stock # 48122

2006 Goshen, Chevrolet C5500 Kodiak
40 passenger, 39 rear+driver
120,000 miles (Low for a Duramax)
6.6L Duramax diesel w/ Allison Transmission
Front and rear dual compressor Air Conditioning and Heat
New exterior paint
Cruise control, Electric mirrors
Overhead racks with Individual space craft reading lights
Hi-back reclining clothe seats, Arm rests
AM, FM, CD, DVD, 2-TV's ( 20 " & 15.6") 8 speakers
Electric Bi-fold Doors
Gross weight 22,000# with Mor-Ryde suspension
Hydraulic Brakes 4 wheel ABS disc
Aluminum wheels with Stainless steel center caps
Running board with mud flaps
Refurbished with Warranty


return to Used Bus Sales inventory
(previous page)


return to Used Bus Sales inventory
(previous page)



If you have any questions about our Chevrolet C5500 Duramax Bus Sales please call 910-272-0177
or contact our Bus Sales department to write.